This resource is for ARC faculty, staff, and managers. For student resources, go to ARC Online.
American River College, as a premier learning community, provides distance education that serves our students in a manner that is consistent with the college's overall vision to transform and enrich the lives of our students.
Watch this video which was presented to the LRCCD Board of Trustees in April, 2012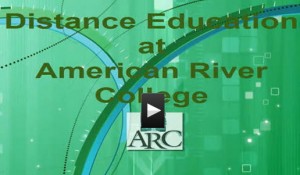 DE Course Guidelines & Rubrics
DE Effective Practices
DE/Technology Planning
DE Policies & Standards
DE Training
DE Statistics and Data for ARC
ARC Distance Education: A comprehensive series of reports that examines demography and compare enrollments and student success for online and face-to-face classrooms over five years.
DE Surveys
The Accrediting Commission for Community and Junior