Date/Time
: Thursday, August 22, 2019
1:30 pm - 2:50 pm
Location
ITC Training Room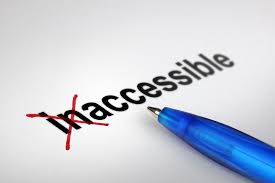 If our documents are not accessible, we are excluding a large population of ARC students from learning. In this session, you will learn how to use the Accessibility Checker in Word and PowerPoint to highlight accessibility issues and fix them. Then in Canvas, you will see how to use the Accessibility Checker for identifying and fixing accessibility issues on Canvas Pages. Finally, you will learn how to use Ally to identify issues in images and files attached to Canvas.
Please note:
Attendance is limited to employees of American River College and invited participants.
This is not a Hands-On session
Facilitator: Leslie Reeves, Universal Design for Learning Coordinator and Marie Cooley, Professor of Interior Design
Flex Credit: 1.5 hours
This activity meets ARC Strategic Goal 3 Exemplary Teaching, Learning, and Working Environment and Goal 4 Vibrancy and Resiliency; ARC ISLOs 1, 2, & 5; and State PD Guidelines A, B, & C.
Registration